This testimonial is from Liz Grewal in Coffs Harbour about her Hairless Chinese Crested Dog Pepsi.
This morning Pepsi had a 'number' of X-rays. For that time, I became a 'vet nurse' & it was all done with voice control & my holding Pepsi in positions to be X-ray'd. I cannot thank my vet enough for this, as it saved Pepsi having lots of medications to knock him out, that he fights badly.
In June 2013, Pepsi was retired from agility due to calcification on his spine & between his vertebrae, in January 2014, more X-rays, showed bad calcification on his neck vertebrae also & my lovely vet said, Pepsi would be medicated for the pain from this & put to sleep in a few years due to his lack of quality of life.
Well that was when I started to 'fight' for my dogs & Heal With Ease, entered the picture to help me. After 1 1/2 treatment plans, I was seeing a big difference, 2 1/2 treatment plans & Pepsi was competing agility again on a 'limited' basis, by the end of 3 treatment plans he was allowed 2 agility runs per day & by the end of the full 4 treatment plans, I had a NEW DOG, who was pushing me to train & run agility.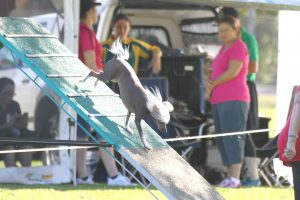 Over this time, we took our Novice Rally-0 title & last month his CCD obedience title & back training & running agility.
The X-ray's today showed that Pepsi has NO, that is right NO calcification on his spine at all, neck or back & the narrowing of his 7/6 & 6/5 between the discs is GONE, the difference is 'remarkable' & super obvious even to my 'untrained eye', the vet was "IMPRESSED" to say the least & cannot wait to show his colleagues & yes I made sure he had 'healwithease.com' on the computer as to who gave us that help. He was also super impressed with the differences in Pepsi's neck.
I have to also say that Pepsi is now only 6kg & has always been 6.5kg, his body is working so much more efficiently, he has a waist & these are things that are also making a massive difference. His energy levels are up & last weekend he ran & chased for at least 50 mins of our 60min walk on the beach. I can see so many differences in my dog.
Thank you so very very much, Cathy & Eric, of Heal with Ease, I cannot tell you how much this means to Joe & I & to Pepsi's quality of life & now we are expecting a full & very long life with him, which is fantastic.
Liz Grewal
Shep – Deaf Koolie
Angel – Deaf Koolie
Atlas – Deaf Blue heeler (ACD)
Pepsi – Hearing Hairless Chinese Crested JDX, AD, SD, SPD, GD, RN
CH Blackheath the Iceman (Ice) – Hearing Hairless Chinese Crested
AUSTRALIA
To book in for your furry friends first Healing Plan click here. For more information about Healing Plans click here.